A Table Rock Lake Tradition Since 1956
Hideaway Marina
Located Between Points 11 & 12
Hours
Marina
8 AM to 8 PM – 7-Days a Week
Food Shack
11 AM to 7 PM – 7-Days a Week
Address
1810 Hideaway Road
Galena, MO 65656
Lat: 36.663473 | Long: -93.497160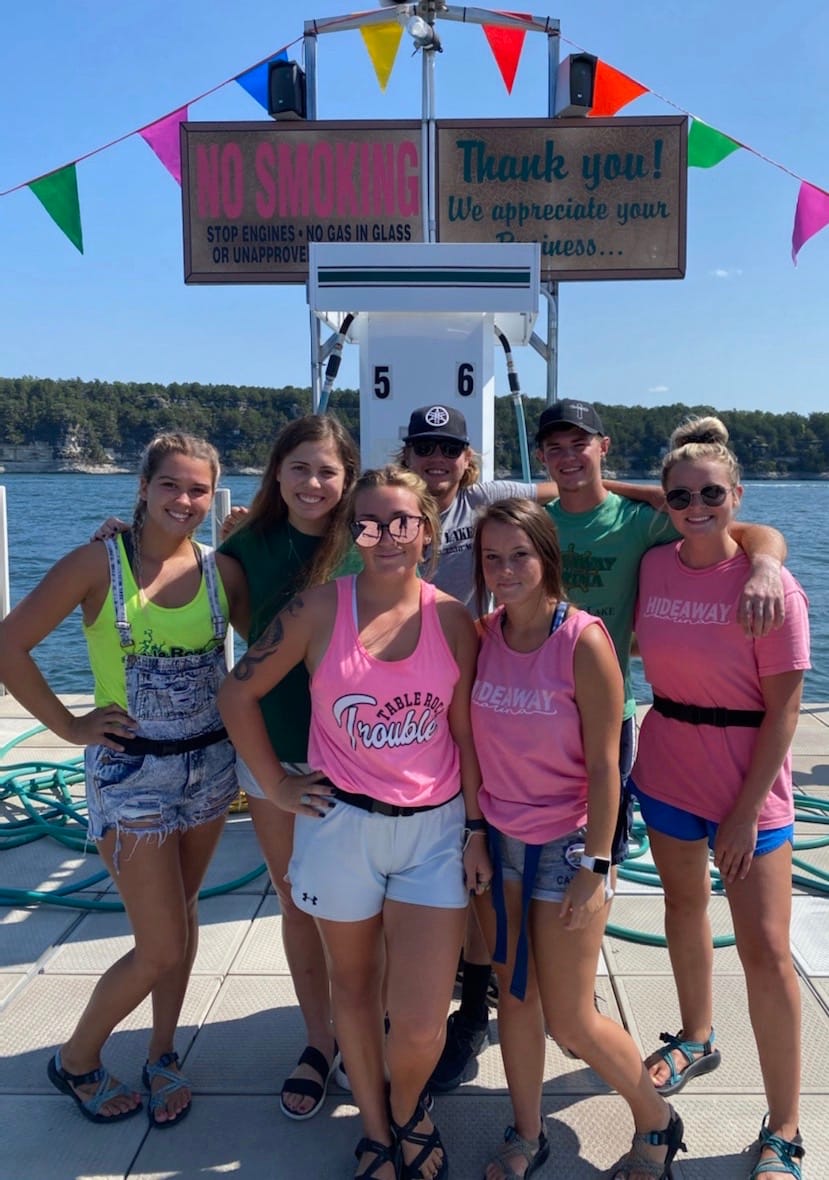 Our Courteous Staff Is Ready to Serve You!
Whether you're here to top off your tank, grab a six-pack and some ice, or grab a bite to eat from the food shack, you will be greeted by our friendly staff.
Our facilities include a full-service gas dock with clean restrooms, ice, beer, soda, snacks, lake apparel, ice cream, and all of the items you'd expect from a convenience store.
It's a great place to take your pet to stretch its legs.  The food shack offers great quality food with a seating choice of outdoor picnic-style or indoors in the air-conditioned boat "The Lost Diner". The boat is pirate-themed for the kids to enjoy and has a great photo opportunity. Hideaway is a family and pet-friendly lake destination.
We offer covered slip rentals on gated docks. Stay one or more nights ($30 per night and 20% discount for 5 or more nights, includes electric), or keep your boat with us year-round.  A 10′ X 24′ boat slip is $2,150 per year, a 10′ x 28′ boat slip is $2,550 per year and a 14′ x 32′ boat slip is $3,450 per year. We also have covered jetski slips, which are $775 per year (includes storage locker). Contracts run from May 1st thru April 30th, but you can bring your boat or jet ski in at any time and we will prorate. Contact us via email at info@hideawaymarina1956.com or call the store at 417-538-2828 for questions.
Our Store
ice, beer, soda, snacks, ice cream, clean restrooms, and all of the convenience store items you'd expect!
Self-Serve Minnows
For the fisher(wo)men, we have MINNOWS on the dock. It's based on the honor system when the store is closed. Just put $5.00 per dozen into the designated money bin, and take your minnows!
Hours
Marina
8 AM to 8 PM – 7-Days a Week
Food Shack
11 AM to 7 PM – 7-Days a Week
Address
1810 Hideaway Road
Galena, MO 65656
Lat: 36.663473 | Long: -93.497160